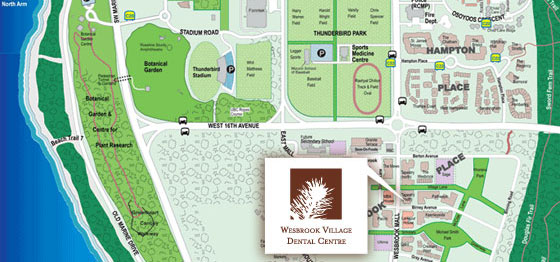 Contact our Wesbrook Village Dentists – Vancouver
Email: info@wesbrookvillagedental.com
Phone Number: 604-221-7600
Address:
3328 Wesbrook Mall, Wesbrook Village
Vancouver, BC, V6S 0A8
Come Meet Our Dentists, Vancouver!
Wesbrook Village Dental Centre is conveniently located in Wesbrook Village at the University of British Columbia. Our Vancouver dental clinic is extremely accessible by bus, bike, or car, and serves the UBC, Dunbar, Kitsilano, Kerrisdale and Point Grey neighborhoods.
We've been caring for patients teeth for many years. If you're looking for someone to provide full service dental, Vancouver has what you need.
Not all dentists clinics are accepting new patients, but we are! Make us your choice for Vancouver dentists and call now to book your appointment!
For general inquiries or to book an appointment, please fill out the short form below and our dental clinic will get back to you shortly.